Bright Futures
The goal of this young women's economic empowerment group is to help women become financially independent. Group activities are developed and implemented by the members themselves and are communal in nature, with all members participating and benefiting. Bright Futures was founded in 2015 in partnership with the Junior League of Evanston-North Shore to empower women to be able to work together, gain skills, and find solutions to support themselves and their families.
Currently, 20-30 young women meet at the center every Saturday to participate in  Bright Futures activities. Multiple paths or options for pursing financial independence and economic sustainability are offered to group members, depending on their strengths and interests.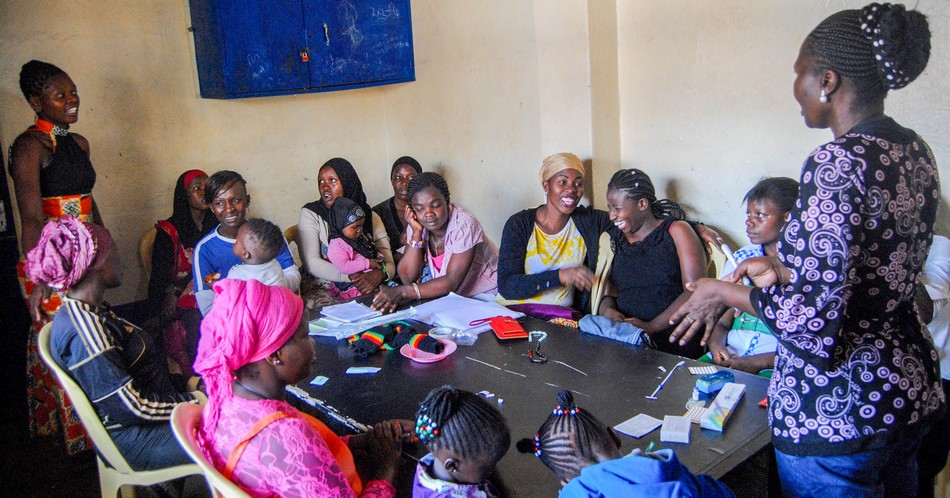 Group Savings
Group members participate in a "merry-go-round" savings scheme, where each group members contributes a small amount every week and then all group members take turns taking the total amount home. Group savings encourages saving through accountability to fellow group members and security of the savings. Group members also participate in the "52 week challenge" which provides a savings goal each week. They receive their annual savings back at the end of each year.
Business Training and Small Business Loans

The program offers small business loans to group members with existing businesses that they wish to expand.
Income Generating Activities

Bright Futures members have taken responsibility of cleaning the Uweza Community Center and washing jerseys from our soccer program twice a week, for which they earn a reliable income. They have also start a group liquid soap-making business; they make and sell the soap as a group and share the income.
Life Skills Training

Group members participate in a life skills training session once a month at their meetings on topics related to being a young woman and young mother in Kibera, often led by an outside facilitator.  Topics have included family planning, child health and nutrition, HIV/AIDS, and the importance of education for children. Group members have also participate in computer training sessions at the Uweza center's computer lab.
Impact of the Program
Bright Futures has helped empower the women in the program to stand on their own and support themselves and their families through provision of knowledge through training, improved financial sustainability through group savings, and opportunities to earn income. All of the women in the program are mothers so the impact of the program on them automatically extends to their children as well as their partners/spouses and households. All of the members of the Uweza community are aware of the group's activities and see them meeting every Saturday and participating in income generating activities at our gender and this also helps combat gender inequality and challenges societal norms about women needing to be reliant on men for income.
Karen Leese Miller Legacy Bracelet
In 2017, we created the KLM Legacy bracelet in honor of Karen Miller, a dear friend and the driving force behind the creation and sustainability of the Bright Futures program. Each bracelet was handmade by a woman in Kibera and the beads on the bracelet represent events, relationships, and experiences in Karen's full and vibrant life. To learn more about the bracelet and how to purchase, visit: https://uwezakenya.org/klm/. All of the proceeds from the sales of the bracelet support the Bright Futures program.